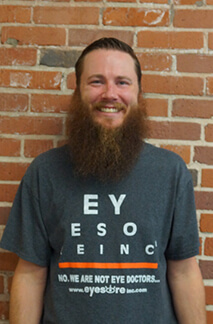 If you know Eyesore, you know Garrett Massey.  Or maybe you don't.  Maybe you only know the guy with the beard.  Well, today is your lucky day.  You get to meet the man behind the beard.
Garrett is probably not that interested in taking a long walk on the beach with you, but he is passionate about food – eating it in great variety, but also preparing it.  He also enjoys wearing kilts and is in contention for being the office champion at knowing a lot of useless information (in addition a lot of useful information, of course!)
One of the reasons that you might know Garrett as the face of Eyesore, Inc. is that he started this whole thing.  Work began whilst he was still in pursuit of his undergraduate degree in Computer Science at Georgia Southern University, and incorporation followed soon after graduating.  This year, he celebrated nine years in business.
Garrett knows business.  Garrett knows technology.  Garrett is equipped to to help you understand how best to use technology as a stepping stone to growth.  His technical background, including teaching college classes in Python, Java, and PHP, combined with his own business experience and an unparalleled ability to listen and comprehend make him the perfect person to lead our team in solving business problems of all shapes and sizes.
When he's not saving the world, and sometimes even when he is, Garrett is probably spending time with his family: his beautiful wife, Alycia, and two children, Alex and Emmalyn.