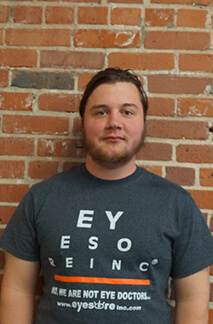 Jesse Smith. Full-stack developer. Cross-dimensional watcher. Creator of cardboard armies.
A little over 3 years ago, this budding CS student had the misfortune of having a certain Mr. Garrett Massey as his instructor for a few classes. After displaying an almost natural gift for the art of web development, Garrett decided to take this little duckling under his wing and hired him into Eyesore Inc. At Eyesore, Jesse was able to fortify his knowledge of HTML, CSS, and PHP while picking up and strengthening his Javascript, GoLang, MySQL, and AngularJS skills. As a developer, his tool belt's growth shows no signs of slowing down.
Jesse partakes in a few hobbies during his spare time. Most notably, he plays Magic: The Gathering, both online and in paper. His primary colors are the classic Esper blue, black, and white, choosing more specialized approaches to building his decks. Jesse can also be found playing multiplayer games on his custom-built PC, including Starcraft II, Overwatch, HoTS, and others. He's also been known to participate in classic tabletop role-playing games, such as D&D and Pathfinder, always opting for the quiet but chaotic approach to problem-solving.
If you must turn to someone for help, let this developer be one of your first calls.