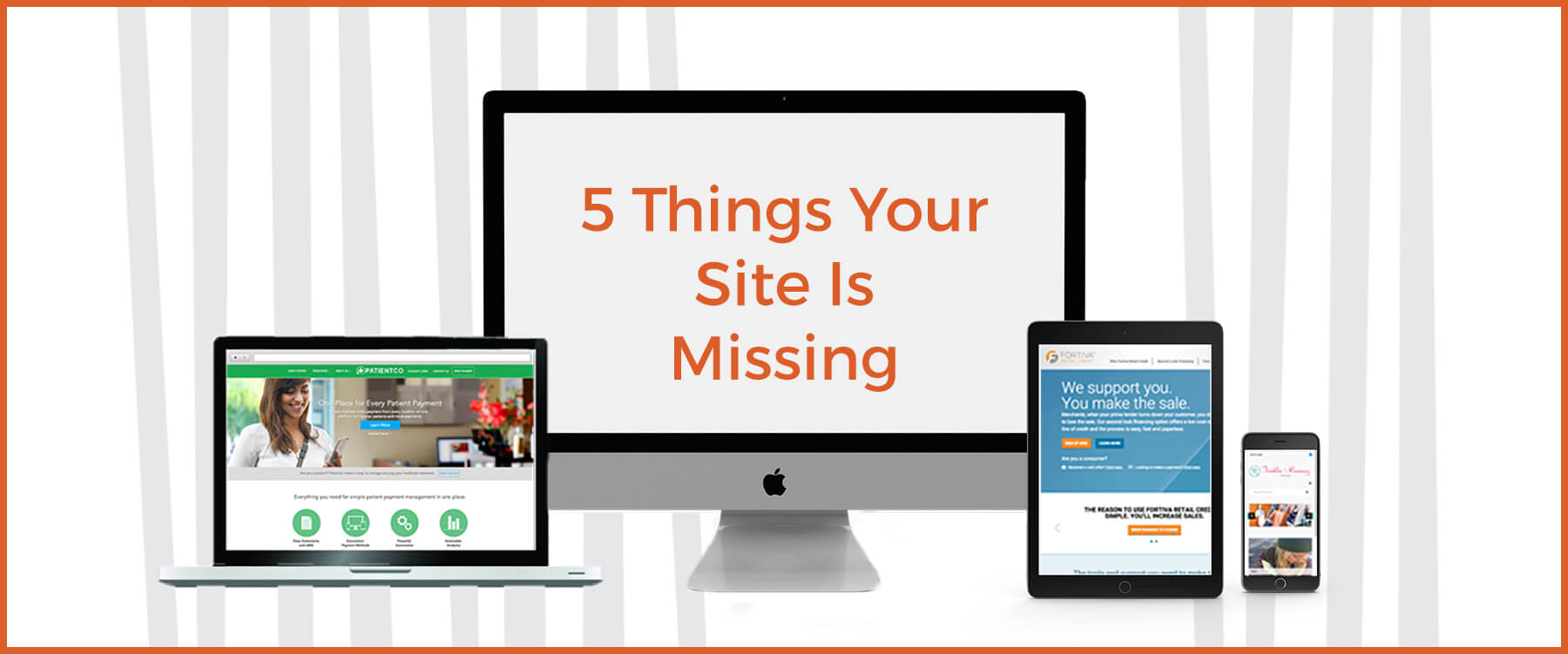 I'm going to be real with you guys for a sec: having a website that's functional and purposeful is the best form of marketing for your business. Your website is the first place people check for info about your business – what you do, who you are, how you can help them. It's where someone goes to get their info on you and your services, and ultimately, it's where they decide if they want to work with you or one of your competitors.
So the question is…Is your website missing something crucial that might turn your ideal customer away?
Below are 5 follies I've found that your website might be missing. Granted, if you're site is specific to an industry where some of these points aren't necessary, then don't go into a panic and pull your hair out! Let's be chill, and dig in!
1. Clear Navigation
As a designer, this is ultimately the first thing a client marks as the worst part of their current site. And I agree 99.9% of the time. If it is confusing for you to navigate through your site, imagine how difficult it must be for a first-time user!
You have to put yourself in their shoes. When you first come to your site, what are you looking for? What is the goal? Are you looking to get information on a product you want to order? Are you hoping to see if this lawyer is legit and if he/she has the credentials to take on your case? Whatever it is that your user might be searching for, make it easy for them to find it. The key to this is an organized site map and site organization.
2. Contact Information
Wait, number two is Contact Information? But Laura, that's common sense!
Not really. You'd be surprised at how difficult it is for so many users to track down contact info on some websites. Your company's contact information should be clearly stated in two places: on the home page and on the contact page. This does not mean that you need to have your company's address, number, your personal cell phone and your home address just in case the first three aren't enough. This simply means that your customers need to have access to a reliable way to reach you. If you've got that on your site already, awesome! You can move on to point 3!
*Just a little tidbit of info to follow point 2. Having a Contact Form on your site is great, but I would highly recommend posting your e-mail, too. We've all known technology to fail us at times, so make sure you have that back up contact info available!
3. Imagery
We've all heard the phrase "a picture's worth a thousand words." Well, it's true. Using imagery on your site can capture your user's attention. Now, does this mean you need to post a shirtless picture of Chris Hemsworth holding a puppy on your home page, no. No it does not (however, you would entirely capture my attention). It does mean that you should have captivating imagery that matches your content.
You can find great stock imagery on sites like Adobe Stock, Getty Images & Creative Market.
4. Content is King
We've all heard about the terrifying SEO monster. Well, one tactic against this li'l devil is to make your content work for you. Instead of writing a bunch of keywords on your homepage hoping that Google might send your site higher in rankings, write content that is engaging, informative and includes a Call to Action. After reading the initial information on your homepage, send your user the page you'd like them to visit!
Instead of writing "We love our customers", give them a next step by saying: "We're a company who loves to help our customers, contact us for a free consultation!" If I'm there customer, guess where I'm going? To get my free consultation!
5. Responsiveness
It's no secret that most consumers use their phones to search for information. Our smartphones have become a quick and easy way to look for information quickly. We want to be able to search and find what we're looking for without having to click through a rabbit hole of information. That's why it's so important to have a website that looks great on all platforms.
But, Laura, how will I know if my site is responsive? Well, pull out your phone or tablet, and go to your site. Is it all jumbled up? Is it clean and easy to navigate? Is it taking forever and a day to load (PSA – check your internet connection before freaking out)? If your site isn't responsive, then it won't work well across all platforms. Ultimately, this could be damaging to the interaction you could receive from users.
I hope this post was helpful and that your site is on track to do great work for your business! As always, if you have any questions about this post, or if you have a question you'd like answered, message us here and we'll help you out!