Ah, the beginning of a new year. Out with the old, in with the new. New resolutions, new President, new hopes and fears. With these big, new, and scary things rolling into January, how will technology change? What trendy thing is going to be the next Pokemon Go that takes the world by storm (and subsequently fizzles out of sight for most of us)? Augmented reality? Virtual reality? 3D Printing? Pokemon Stay? We'll leave speculation on those types of things for the futurists because we prefer a more grounded approach.
With technology, digital marketing tactics, and user demands constantly evolving, it's important to use the new year to center your organization's digital efforts. Take a look at the core – the foundation, and make sure you are geared up to kick ass and chew bubble gum in 2017.
Below we examine three well researched and documented trends that we believe will continue and expand in 2017.
Now, More Than Ever, Mobile
Let history speak for itself. In 2013, Forbes told us that we need to "prioritize responsiveness". In 2014, mobile web traffic surpassed desktop traffic, and in 2015 Google began penalizing websites that are not mobile-friendly on mobile search results. In 2016, 81% of Facebook's revenue came from mobile ads. Assuming you've been on planet Earth for the past few years, you get that mobile is important.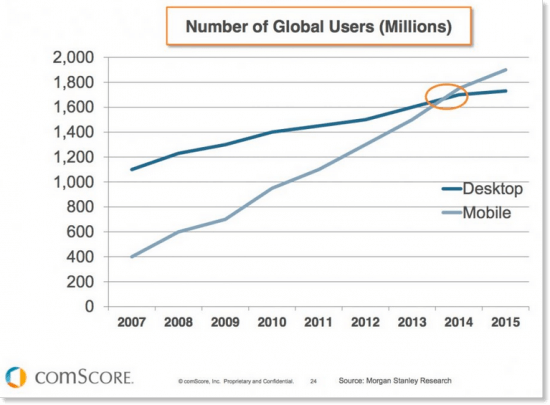 Chart from Smart Insights
"But wait!" You may say, "My website is responsive! Look at the Google Mobile-Friendly Test. I even spent $75,000 getting my mobile score on the PageSpeed Insights tool up to an 87!"
Congratulations! Google likes you. Yes, appeasing the almighty Google is important, but if a million of your best prospects go to your website and don't convert, no amount of #1 listings on SERPs are going to save your business, your pipeline, or your job.
Users expect more than a cheeseburger menu. They require more than a geolocation feature. Your web presence – all of it – must be tailored to a mobile experience.
The Millennial Factor
For most marketers, targeting millennials continues to be a major focus of their strategies. With millennials overtaking baby boomers in population size they are a big consideration for nearly every business and non-profit.
While targeting millennials is not a new challenge, it continues to be a developing one. What marketers have discovered is that millennials need to feel unique while staying connected to their peers, and it is futile to use the same blanketed approach that our digital toolset makes it so easy to utilize. Our tactics need to meet the heightened expectations for online engagement, and then stand out among the drastic increase of content vying for our attention.
Video Killed the Radio (and Marketing) Star
The culturally significant monolith that is YouTube, the advent of Facebook Live, and Instagram adding video to their platform are all key indicators that video is important. But how critical is it that everyone, from small businesses to big brands, integrate video into their marketing strategy in 2017?
Check out this handy infographic from Hubspot below. Video can increase click through rates in emails by 200-300%. Video on landing pages can increase conversation rates by 80%. According to Cisco, 82% of all web traffic will be video by 2020. Video is not going anywhere, and will be a vital tool for all marketers in 2017 and beyond.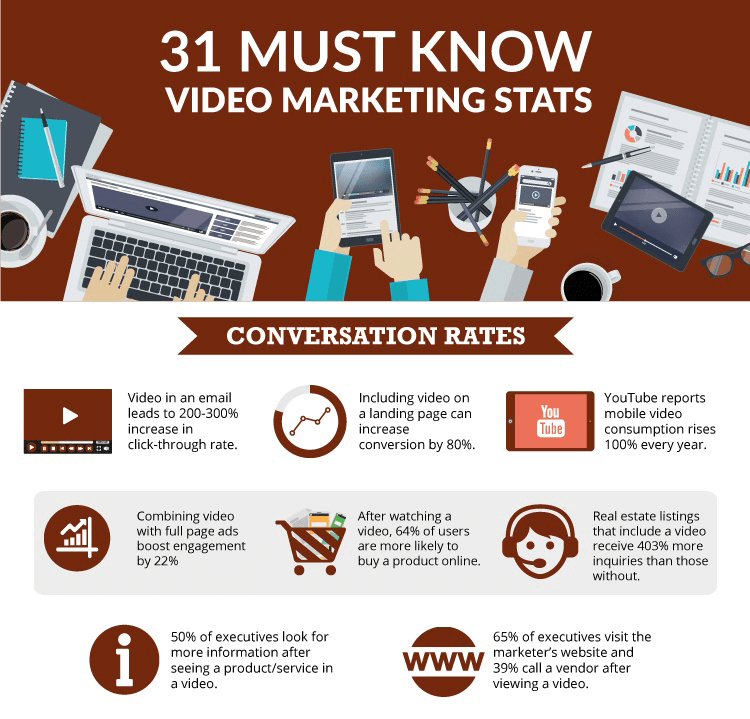 Infographic from HubSpot. Continued below.
The Epiphany to End All Epiphanies
Just kidding. We don't know what the next big, scary, new fad in digital marketing is going to be. Is there something that is going to shake the marketing world in 2017? Certainly! Will it be a blip on the radar and gone in 2 months? Or stick around? Beats me. The crucial thing for marketers to keep in mind is that 90% of your time should be spent utilizing proven methods of accomplishing your goals and spend 10% of their time looking at the cool, new stuff that may (or may not) have an effect on your organization. We do not suggest taking the "it worked for us in the 1960s and by Jove we're going to keep doing it!" approach. Quite the opposite. Everything that is used to grow, promote, and strengthen a brand should have a measurable goal and string analytics to go along with it. However, we do believe that mobile, personalized marketing, and video are going to be critical areas to improve on for the marketers that are already focused on them, and game changers for those who want to focus on them more.


Infographic from HubSpot